champakulam moolam snake boat race alappuzha kerala india
champakulam moolam snake boat race
Champakulam Boat Race, Kerala is a traditional and annual snake boat race of Kerala. Champakulam Boat Race is conducted on the moolam nakshtram or star in the month of mithunam on the holy river pamba. Its one of the oldest and the most significant snake boat races in Kerala has history dating back to 1545 A.D and it directly associated with the Sree Krishna Temple at Ambalappuzha. The race is about 450 plus years old..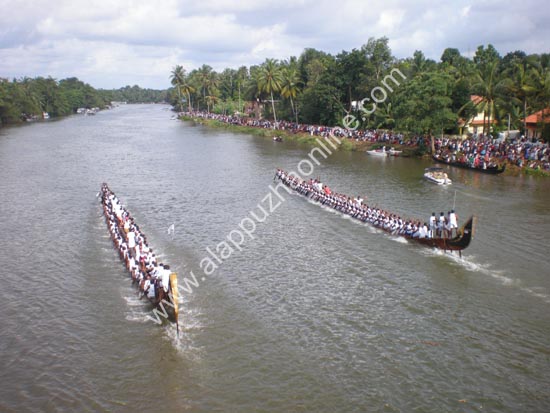 champakulam moolam boat race results
date of race: july 3 2023
winner Nadubhagam chundan snakeboat rowed by UBC kainakary
runner up cheruthana chundan snakeboat talavady town boatclub
third ayaparambu valiya dewan ji rowed by valiya dewanji boat club

. .
Route Map to Champakulam moolam boat race venue
Why is it called moolam boat race ? The race is held on the River Pamba on Moolam day of the Malayalam month Midhunam (mid july according to english calendar), the day of the installation of the deity at the Ambalappuzha Sree Krishna Temple .... .
Race Schedule Champakulam Moolam boat race
to be held on july 3
snake boat race
heats 1
track 1 Valiyadeewanji chundan ( valiyadevanji boat club)
track 2 jawahar tayangari (tayangari boat club)
track 3 free

heats 2
track 1 free
track 2 cheruthana chundan ( cheruthana boat club)
track 3 niranam chundan ( niranam boat club)

heats 3
track 1 free
track 2 Nadubhagam chundan ( nadubhagam boat club)
track 3 champakulam chundan ( kumarakom boat club)
..

.... ....
Past Champakulam moolam boat races
2023
july 3 2023

was held on July 12th 2022
winner 2022 Champakulam chundan (snake boat) rowed by kerala police boat club
second nadubhagam chundan rowed by nadubhagam boat club
third karichal chundan rowed by karichal boat club
Winner 2019 Nadumbhagam chundan (snakeboat ).The winning team is presented the rajapramukhan trophy. Winner 2018 Nadumbhagam chundan snake boat rowed by vembanad boat club

Past races: july 15 th 2019.
Last race held on June 28 th 2018

Participating snake boats 2022 . snake boat category;

heats 1. Veeyapuram snake boat (WBC) watch a video , champakkulam 1 snake boat (KPBC) jawahar (UBC)
heats 2. pandi snake boat (KBC) champakulam 2 (CBC) nadubhagam (NCDC)
heats 3 anari snake boat (VBCM) , karichal (PBC) , st george (KKBC)